Which Messages Did You Fail To Notice From Designers At London Fashion Week?
March 7, 2017
Some say, women used to rule the world. Women were goddesses worshipped as supreme by men. Archaeologists have found more and more evidence of a Matriarchal age in the past. You would probably wonder "what does this have to do with London Fashion Week"? Well, the recent events around the world led us to wonder if we live in a false sense of unity, equality and humanity. It seems implausible to think women still have to march to defend their rights, humans are discriminated based on their religion or the colour their skin. Is the world transgressing? Well, fashion designers understand their power of influence and for this season, they left clear messages that most have not taken the time to decode.
Teatum Jones – Truly humans and authentic
Teatum Jones opened London Fashion Week with a very strong story about the past. Inspired by the work of Hans Bellmer, a man who opposed the fascism of the Nazi Party. He fashioned mutated doll forms and unconventional poses that stood against the ideals of the new German state. Through a collection beautifully crafted, they showcased oversized coats, column dresses, sheer layers, eyeleted seams and strapped waistlines. Like the victims of war in a fight for freedom and equality, Teatum Jones chose among their models, amputees such as Jack Eyers who proudly walked alongside the models on the catwalk. This collection is a reflection of a past that shouldn't repeat itself and the positive outcome of standing against oppression.
Amanda Wakeley – The beauty and power in the fusion of cultures
In an intimate moment between Amanda Wakeley and I, I discovered that the source of inspiration of her collection was French women from Japanese descent. There is so much beauty in the fusion of cultures. She clearly understood this and was able to create her unique collection full of rich colours, unique fabrics & textures. The women of Amanda embrace their rich, cultural Japanese heritage to create a sophisticated eclecticism whilst drawing influence from the indigenous Ainu tribe. The dominant colours of her collection were consequently red & black, mixed within layers, cinched into the waist with multi wrap belts. The layers, the colours, the trousers, the embroidery dress, the crafted pieces were the reflections of a woman who is confident, unique and bravely embraces who she is.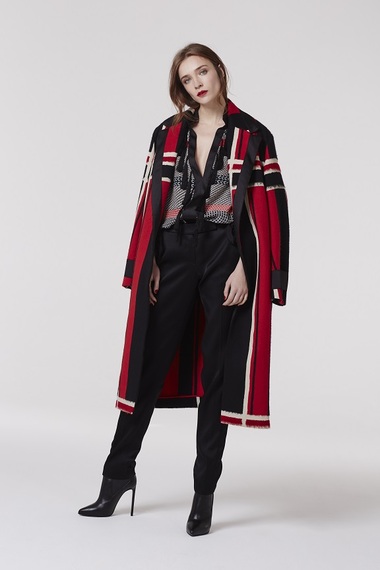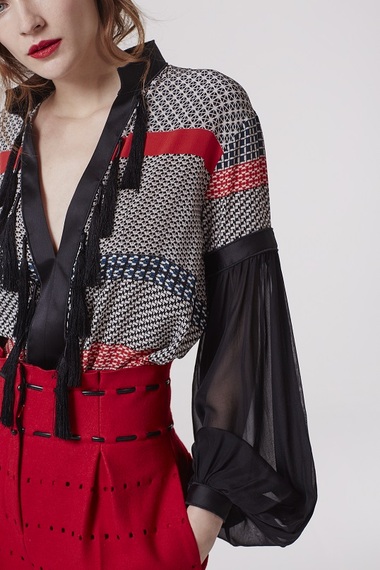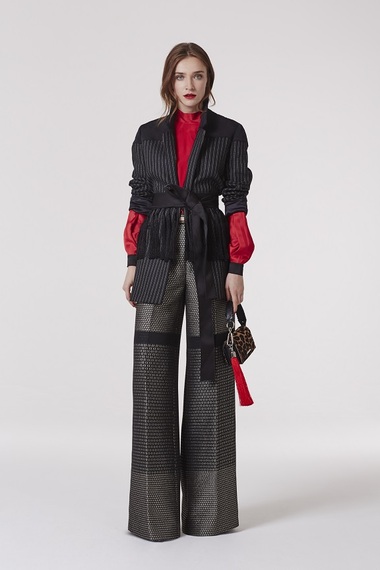 Image Source: Photos by Amanda Wakeley
Julien McDonald – The beauty standards have changed
Julien, true to himself, understands how to make women feel like goddesses and empower them to steal the dance floor. During my post show time with him, he declared "I love to dress women all around the world, no matter what colour or what size; they just want to have fun!" For his finale, he brought on stage the gorgeous Winnie Harlow to close the show. This was a beautiful statement that showcased that the standards of beauty have been reset to open the doors to a new definition of beauty.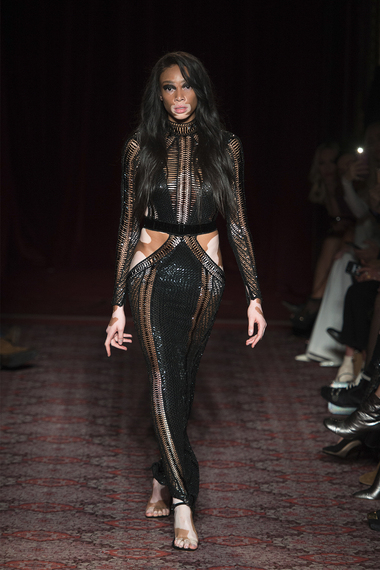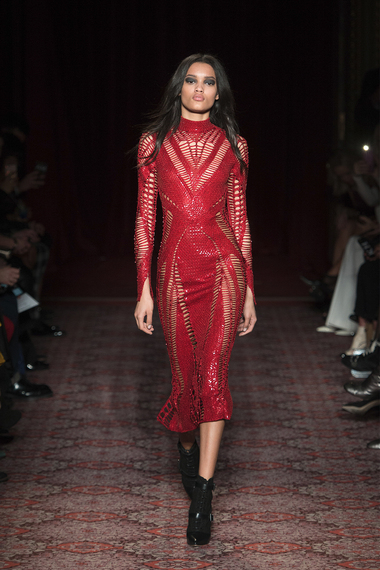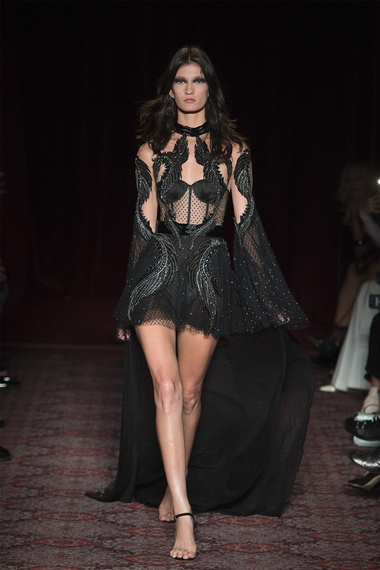 Image Source: Photos by Julien McDonald
Bora Aksu – Women's rights
This season, Bora Aksu dedicated his collection to Princess Sophia Duleep Singh, the daughter of the Maharaja Duleep Singh and goddaughter of Queen Victoria. This woman could have been just another princess but she was the pioneer of the Suffragette movement, a group of militants who fought for women's right to vote. Sophia was the muse of Bora and he showcased beautifully the contrast in her life. The embroideries, textures and pastel colours are the reflections of her free spirit, femininity, strength, passion and determination.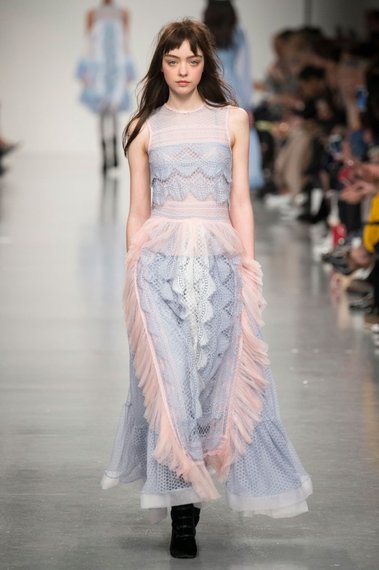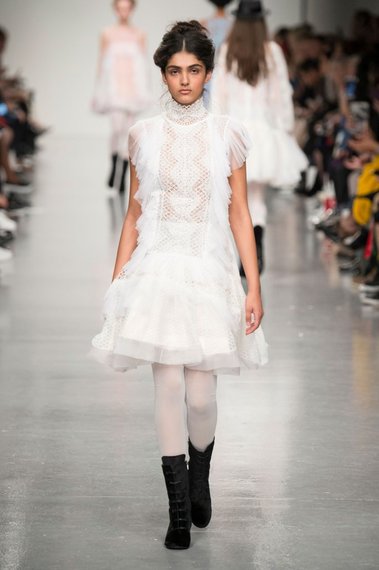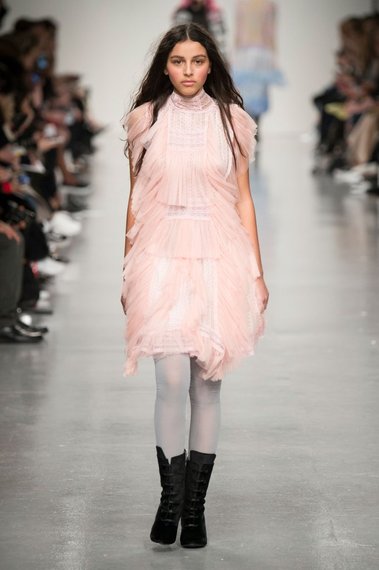 Image Source: Photos by Bora Aksu
Daks – The female leaders
Savile Row, is one of the most famous streets in London. Located in Mayfair, this street is known predominantly for its traditional bespoke tailoring for men. Inspired by it and a fervent of female empowerment, Daks created this season the "Savile Row Woman". Through this well-tailored and androgynous collection, I distinguished sophisticated, elegant and powerful female entrepreneurs and leaders for this century. The women aren't just dressed well to impress but to lead.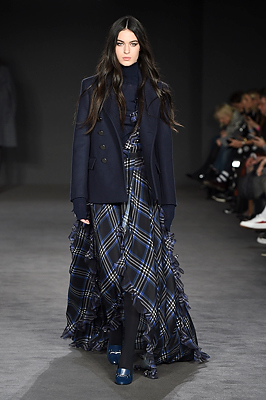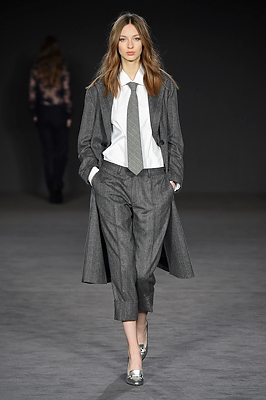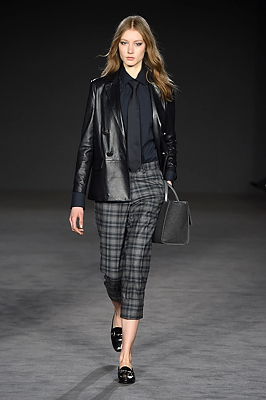 Image Source: Photos by Daks
Fyodor Golan – Superwomen
This was by far one the most fun and unexpected collection to witness. Fyodor Podgorny and Golan Frydman were inspired by the work of Katharina Grosse, known for large-scale artworks. The presentation was a fusion of graphic prints and a twist of bold colours. They were also inspired by the 'The PowerPuff Girls', a superhero cartoon. Finally, the Post-it note, an essential tool in our self-expression was reinvented by the designers as fun tops to wear. Fyodor & Golan want to empower women to be fearless, bold and be their true selves.
This is a new era for fashion. Fashion for me is more than clothes. It is an expression, a movement and the revolution has certainly begun. Autumn/Winter 2017 will definitely be about layers of style and layers will also be the shield of freedom and unity. Kate Sheppard once said "All that separates, whether of race, class, creed, or sex, is inhuman, and must be overcome"
Written by Flavilla Fongang