How to Get Anything from Any Man
September 28, 2015
As a stylist, I know image matters. Over the years my knowledge has helped many of my clients improve their personal or business image to achieve their goals & desires. Women and men think differently, we all clearly know that. I'm fully aware that when I wear a pair of stilettos and a dress, more men notice me. I don't mind the attention and actually I love to use it for my own personal benefit (wink). Men might think they are in control but like Beyonce sang it, women rule the world. Why? Women may sometime think with their heart but men always think first with what's in their trousers. To get anything from a man, you don't even have to give in sexually or show loads of flesh. You can simply use the power of seduction. It's not a 100% success formula but most of the time it sure works.
The power of seduction is about creating an irresistible desire that men can't resist. I want every woman to test this at least once in their life. It's so much fun! Let's admit it; there is nothing wrong using appearance to get something from a man, to a certain extent. The power of seduction gives confidence and improves your chances to get anything from a man. So, how can you use the power of seduction to make a man give you anything? Read on.
SEDUCTION TIP NUMBER 1: Dress to impress
The power of seduction is surely not about sexuality but wearing clothes that flatter your body shape. The less a woman reveals, the more she raises the curiosity of man. If you choose to show off your legs then don't show too much cleavage and vice versa. Choose a dress that accentuates the curves of your body. Wear a pair of high heels that elongate your legs. Wear a pair of jeans that make your bum looks bootilicious.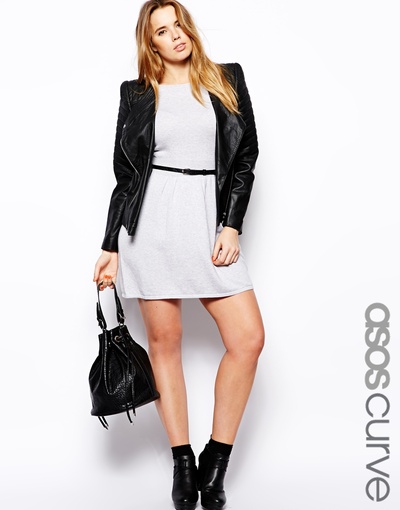 Photo by Asos curve
SEDUCTION TIP NUMBER 2: Wear red
Red is the ultimate colour of seduction and it works every single time. Red lipstick, red heels, red dress, red nails are the calling cards of seduction. Red is a powerful colour and easily noticeable in a crowd of grey business suits.
I was heading to a business meeting in central London. I quiet often like to wear my brand colours for business meetings. On that particular day, I chose a red dress and black pumps which make me look fabulous and give me the confidence to conquer the world. I got into the bus, I smiled at the bus driver, I swiped my Oyster card and realised that it didn't have enough money in it. I felt silly for an instant but before I could say a word, the driver said to me, "Don't worry; this ride is on me lovely lady". I got a free ride and I didn't even ask! I am pretty sure that if I was wearing a track suit bottom his attitude would have been different.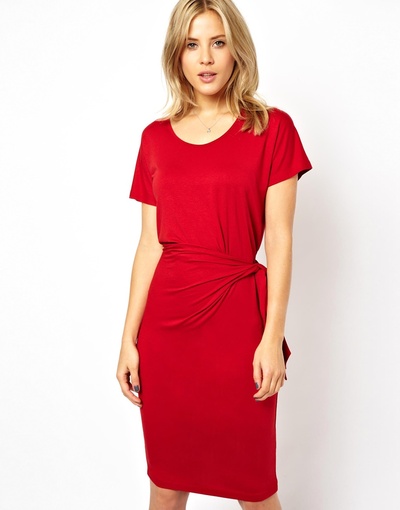 Photo by Asos
SEDUCTION TIP NUMBER 3: Wear lace
I don't know a single man who doesn't love lace on a woman. At the turn of the century, lace was only used for Lace was only used for underwear. It's only in the last few decades that lace was used for tops, dresses, etc. Because lace is associated with intimacy, it raises his blood pressure when you wear it. So go on and invest in a few lacy numbers that will make him want to listen to what you have to say.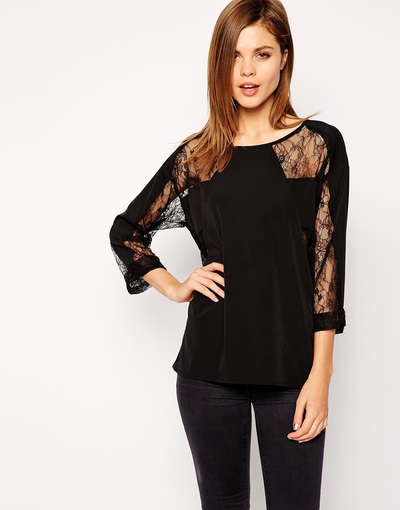 Photo by Asos for Y.A.S Yasstine
SEDUCTION TIP NUMBER 4: Wear leather
Women who wear leather are portrayed as confident, sexy and mysterious. Something that will definitely make a man looks more than once. Rock that leather in a skirt, pair of trousers or dress to make him say "yes" to whatever you ask. You are a rock star; let the city be your stage and men be your groupies.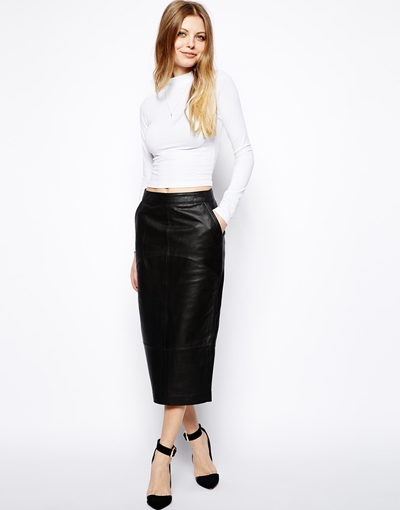 Photo by Asos
SEDUCTION TIP NUMBER 5: A charming smile
Always wear a smile wherever you go. Smiling is communicative, seductive and contagious. People don't often smile enough. So when a woman unexpectedly smiles at a man, he lights up as he as he envisions endless opportunities. Try smiling to any man on the tube and surely he will smile back. If you like him and he likes you, he surely won't be able to take his eyes off you. Smile back and let him be brave enough to talk to you.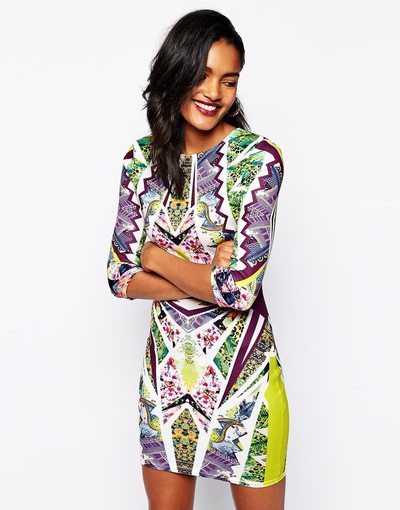 Photo by Asos for River Island
Image matters and we all make instant conclusions on others. Women should never only rely on their look to get what they want in life. Gold diggers do but smart women don't. Smart women combine their image with their intelligence to preserve their independence. They are confident in their own skin no matter their size or age. It is never about give in sexually or reveal too much flesh but using cleverly the power of seduction. The secrets of the power of seduction are look good and be charming.
Why not try it today?
Source: The Huffington Post