How to Become a Successful Fashion Designer?
September 28, 2015
Fashion is a fascinating business, one so versatile that it can collaborate with any type of industry. In the past I worked with Suzuki cars to create a colour psychology car test to help their clients identify the car that suited them best based on their colour preferences. I was therefore interested in meeting Olivia Rubin, the designer that Dove chose to collaborate with to design three fashion capsule wardrobes . I wanted Olivia to inspire you to follow your dreams and to learn how to get the attention of big brands & celebrities in a market filled with talented people.
Flavilla:
A usual question to start with (smiling), who inspired you to become a designer?
Olivia:
It was something within me. I was always interested in art since I was quite young. I started drawing and painting at a very young age. My grandfather was a painter so it was in my blood. Then I studied art at GCSE and A Level, I set up a fashion show at school and I obtained a Bachelor's Degree in Fashion Print at St Martin's. This is really how my journey began; a natural progression.
Flavilla: We all have a source of inspiration, what is yours?
Olivia: My main source of inspiration is modern art and architecture. I like graphic bold lines and shapes and I contrast them with nature and floral prints. Within my work, there is always a contrast with colours and prints, or within the silhouettes.
Flavilla: How did the collaboration with Dove happen?
Olivia: Well, Dove wanted to work with a designer who expresses themselves through colour. As a designer, I am known for my use of colour and prints, so naturally I was the perfect designer as the project involved portraying women and 100 colours through their products. The aim was to bring colours back into women's lives and to help them become more confident. Besides that I'm also launching my own bespoke line which will be made in the UK towards the end of the year.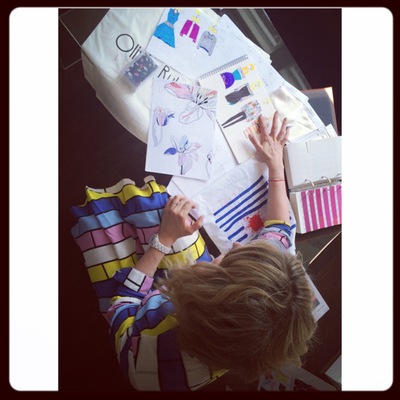 Olivia Rubin
Flavilla:
This is great. As a stylist, I understand how colour can impact on us and influence people. I teach women how to use colours to create a positive image and improve their well being. If you had to describe yourself in colour, what would you say Olivia?
Olivia:
Colourful! (Laughs) I dress according to my mood and I never wear black as I don't like myself in black at all. The majority of women wear black. They see black as the most slimming colour and classic style. I love wearing bright colours and putting different colour combinations together. My favourite colour is pink: candy pink, neon pink, etc. Pink was the main colour I used when I launched my collection so it's my signature colour.
Flavilla: My favourite is red!
Olivia: Really? I can't wear a red lipstick but I can wear bright pink.
Flavilla: We need to find your perfect red lipstick then! (Laughing)
Olivia: We do! (Laughing)
Flavilla: You have celebrities who love your brand. How did you make them fall in love with what you do?
Olivia: Well, I used to work quite closely with a celebrity stylist so that's how they saw my collection. Also, some celebrities' approach me directly, ask to see the collection and I help them to choose what works for them.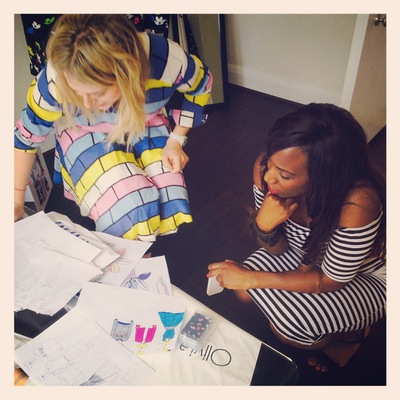 Olivia Rubin & Flavilla Fongang
Flavilla:
Starting as a designer is not easy. So what advice would you give to anyone starting their own brand?
Olivia:
It's key to get as much experience as possible. Before I started my label I worked for 5 years in the industry. When I was at St Martin's I worked through the holidays and I had a weekend internship as well. Gaining experience makes you more determined to start up your own brand and also gives you an insight into what work you have to do when you start a label. College students only see the glamorous side of it; fashion, parties, catwalk shows etc, but that's only a small percentage of what running your own brand is about.
Flavilla: I agree, running a brand is not easy and you need to develop variable skills to succeed. For you, what was the moment when you realised you were ready to start your own label?
Olivia: I entered the fashion fringe competition, it's an international competition and I reached the final. I met Donatella Versace as well as other great designers and I had really positive feedback about my work. They said to me, "Go for it!" This was my opportunity to really start. The mixture of having enough experience and positive feedback from mentors in the industry is sufficient to take the fear away so you can start.
Flavilla: It's true, it gives you that reassurance.
Olivia: Yes, it gives you the reassurance that you have support behind you and gives you the confidence you need to take the plunge. It's not a small thing, starting alone. It involves a lot of planning ahead and you have to learn about different areas where you need to be quite strong. You need to have something that stands out against the other collections out there. It's also about selling your collection, doing your PR and being sociable while meeting people. It's about getting the word out there and believing in you.

So remember that standing out in the fashion world requires great creativity, uniqueness, perseverance and sociability. Mix the four together and you have your melting pot recipe to succeed as a fashion designer.
Source: The Huffington Post